This recipe for mustard grilled chicken is a regular at our house. We've been making it all summer and are not even close to getting tired of it. It also takes under 30 minutes from start to finish. Sometimes, I'll throw chives or thyme in the marinade. Others, I forget and make it without. Either way, it always tastes great. Easy and delicious, I recommend making an extra large batch and freezing the leftovers. You won't regret it.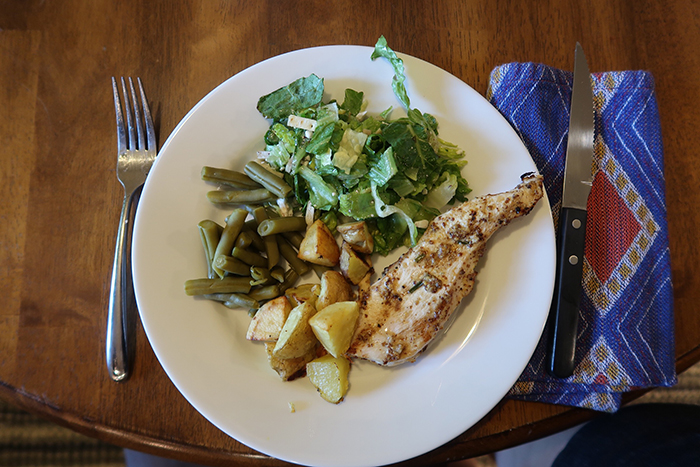 Mustard Grilled Chicken
Serves 4
Ingredients:
2 tbsp. ground mustard
1 tbsp. red wine vinegar
1 1/2 tbsp. extra virgin olive oil
1 tbsp. fresh herbs or 1 tsp. dried herbs (optional)
1 garlic clove finely chopped
2 chicken breasts
Salt and pepper
Directions: 
Split each of the chicken breasts in half horizontally, so you end up with four, thinner pieces. Sprinkle both sides of all four with salt and pepper. Set aside.
In a bowl, mix the mustard, vinegar, olive oil, garlic and herbs together. Place the chicken in a baking dish or bowl. Spoon three-quarters of the marinade over the chicken, reserving about a tablespoon for later. Toss to coat.
Let marinade for 15 minutes.
Then, add to a hot grill and close the lid. Cook for 6 minutes. Then, flip the chicken over. Brush the reserved, unused marinade over top. Grill for another 6-8 minutes. Once cooked, flip the chicken and let it sit for a minute or so. Then, flip back over and remove. The chicken should feel firm and if cut, be white inside – with no pink inside.