Let's just start by getting the obvious out of the way.
This is not health food.
This is cheesy, beefy goodness.
Please send my apologies to your swimsuit. But, I don't think either of you will be disappointed.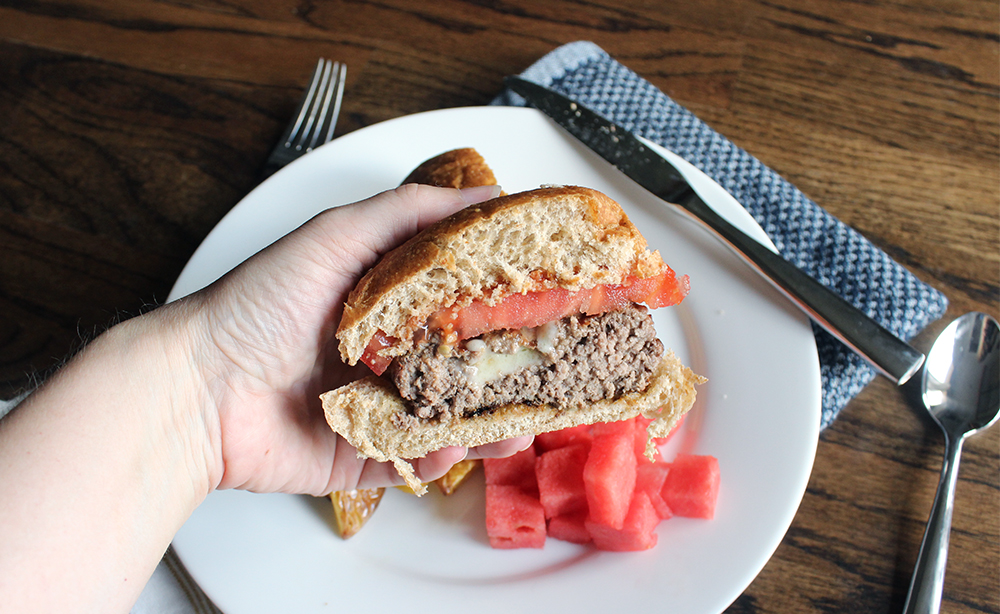 Outside-In Cheeseburgers
Serves 4
Ingredients:
1 lb. lean ground beef
Block of sharp white cheddar
Worcestershire sauce
Salt
Pepper
2 tbsps. extra virgin olive oil
Buns
Directions:
Cut small rectangles of cheese from your block. These should be about 1 inch long by 1/2 inch wide. You'll need one for each burger. Set aside.
In a large bowl, add the beef. Then, sprinkle on a few dashes of Worcestershire sauce. Add salt and freshly cracked black pepper too. Lightly mix with your hands to combine. Then, use your hands to evenly section the meat into 4 equal parts. Place a cube of cheese in each section. Now, in one section, gently shape the meat around the cheese, being sure to cover it up. Don't pack them too tightly, but make sure the cheese is secure. Repeat with the remaining three sections. Drizzle each with extra virgin olive oil to lightly coat.
Now, heat a cast iron skillet over high heat. When the pan is hot, add the burgers. After about 3 minutes or when browned, flip. Let cook another minute or two until browned and flip again. Turn the heat down to low and cover loosely with foil. After about 6 minutes, remove the tent to see if ready. Once cooked through, remove them to a plate, tent with foil and let rest for about 5 minutes.
Serve on buns with your favorite toppings.