A few weeks ago, we went on a Disney Cruise with Keegan's parents. We saw Cinderella, danced with Goofy and ate our weight in soft serve. Here are some of our favorite tips to help make your trip a success.
1. Bring a marker board. This may sound like a strange tip, but if you're traveling with a group, it will allow you to leave notes for one another. Your cell phone may not work for most of your time at sea, so you'll want a way to easily say you've left for the pool.
2. Choose a room on decks six or seven, if you can. That will put you close to the dining rooms and theaters. It will also make a trip to the pool just a short walk up a few flights of stairs.
3. Take advantage of the entertainment on board. The ships have live, theatrical productions every night, which are a lot of fun. Be sure to hit those up. Also, the ship has free showings of new-ish movies. We saw a Wrinkle in Time and Black Panther while we were at sea, which was a nice treat. They also had Coco and a few others.
4. Plan to get dressed up. Pack your princess dresses and pirate gear. The kids on board often wear costumes to eat at night, and while dinner  is not super dressy, if you eat in the main dining hall, shorts may be too relaxed. For evenings, I lived in rompers and casual dresses. Also, there is one pirate themed night, and people get very dressed up for this (even some adults).
5. Book excursions and character meet and greets early. Free, on-board activities fill up really fast. We missed out on princess meet-ups by booking too late, which was just a few days after we had access.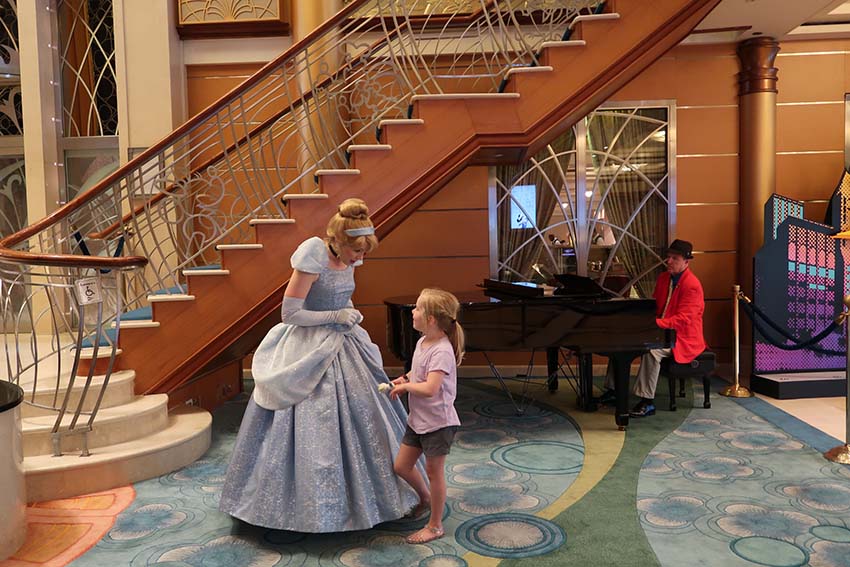 6. Try your luck. There are character greetings happening all the time, so even if you don't have tickets to one of the smaller meet-ups, your kids will still have the chance to meet some of their favorite people. Also, during one of the princess meet and greets, we were told we could join – even though we didn't have tickets – because they were running ahead. So, if you don't have them, I'd swing by any way and see if they have room.
7. The Bibbidi Bobbidi Boo Boutique is worth every dime. It is pricey – but if you have a princess-obsessed little one – I can't recommend it enough.
8. Pack warm clothes. So, we were not entirely prepared for the dip in temperatures during our trip. Two of our days in port were rainy and cold. Check the forecast before you go.
9. Eat at La Creperie. This only applies if you go to Key West, but it is worth a mention. The food is incredible. Period. End of Story.
10. Download the Disney Cruise app before you go. This will be your guide throughout the trip. It will tell you everything from the dining room in which you're eating to where you can run into Sofia the First.
11. BYOB. You can bring two bottles of booze per person onto the ship if you want. We did not, but plenty of cruisers do. Also, if you're so inclined, you can pick up additional supplies at every port, as long as you follow the two per person rule.
12. Eat when and where you want. While every cruiser is assigned a dining time, you don't have to eat at the formal meal. There are plenty of other options on board. FYI, our buffet turned into a sit-down dinner at night, which was still a faster option. The multi-course dinners can last an hour and a half to two hours, which can be long with a five-year-old. There are also some grab and go spots on board, which are perfect for a quick lunch or dinner by the pool.
13. Room service is clutch. First of all, there is no additional cost for room service. It's included in your fee. We used it for breakfast every, single day. It was so convenient and relaxing to eat in our room at our leisure. To order, we just filled out an order form and hung it on our door every night. The menu includes everything from fruit to donuts.
Cruise Details
Ship: Disney Magic
Itinerary: Miami – Key West – Bahamas – Castaway Key – Day at Sea – Miami