Pear, Goat Cheese and Pistachio Crostini
I made this pear, goat cheese and pistachio crostini for Thanksgiving this year, but according to an old friend, I served something like this for a book club many, many years ago. I'm so glad she reminded me about the combination, because it is delicious, and I had completely forgotten about it. (which sadly happens all the time to me)
With just five ingredients, it takes almost no time to prep and looks fancier than it is, which makes it the perfect appetizer for holiday parties when you don't have time (or even, when you do).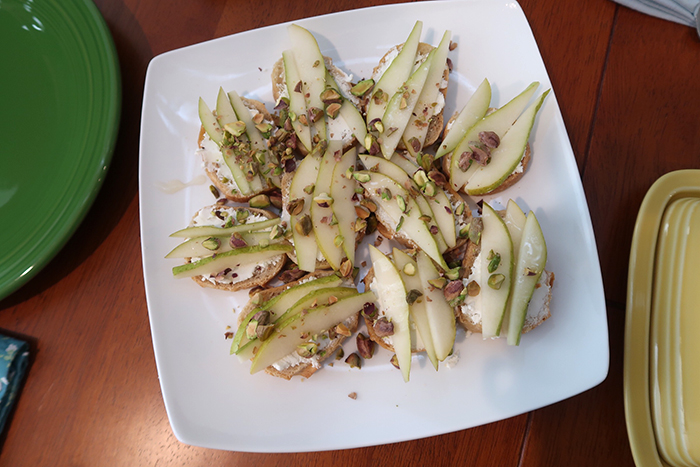 Pear Goat Cheese and Pistachio Crostini
Makes 10 crostini, but you can easily scale up
Ingredients
1 baguette
1 small log of goat cheese at room temperature
1 pear
1/2 c. pistachios
1 tsp. or so of honey
1 tbsp. extra virgin olive oil
Salt and pepper
Directions
Preheat the oven to 350. Meanwhile slice your baguette into rounds, making each piece about a 1/4 to a 1/2 inch thick. Then, lay them out on a baking sheet. Brush each side with olive oil. Sprinkle with salt and pepper. Toast for 5-10 minutes until lightly golden.
Shell and toast the pistachios in a skillet over medium heat. Remove from the burner when they start to smell.
Now, after the bread has cooled, spread the room temperature goat cheese thinly on each round. Add them to your serving dish.
Roughly chop the pistachios.
Then, thinly slice a pear. Place 2-3 slices on each crostini. Drizzle the entire plate with honey. Sprinkle with the nuts and serve.