Happy (Belated) New Year! How's yours going? Ours started off nice and leisurely, but this week, we're back to the grind with Ellie in school and Keegan and I both at work full-time. So, all that to stay, this is the first week I'm really focusing on resolutions, goals and intentions for the year.
Every year, I set some sort of goal. Sometimes, it's simply a word. Others, it's a list of things I'd like to improve. Last year, it was simply to paint my nails and floss my teeth. I know. Ambitious. As 2018 progressed, it became more about working out and even more so, eating well. I'd like to keep that momentum going, but as I moved towards 2019, I had something new in mind.
For the last several months, I've felt like time was getting away from me. Often, I'd find myself dazed and scrolling through my phone only to realize 10 minutes or more had passed. Which, by the way, would be fine, if it was always enjoyable. Unfortunately, it wasn't. And those 10 minutes were adding up.
I didn't want to proclaim I'd use my phone less, because if it was forbidden, I'd just want to be on it more. So, instead, I've decided this year will be about acting with intention. Basically, I want to make sure I'm spending time on the things that I actually want to do, as well as work towards some business goals of mine.
Essentially, I'm trying to be more mindful. To help keep me focused, I created a list of how I would like to spend my time. Here's what I came up with:
Move every day.
Eat well.
Connect with friends.
Spend time with family.
Read.
Listen to records.
Practice self care (at home masks, manicures, etc.).
Grow my business.
Blog.
Learn a little Italian.
In order to actually use the list and not watch Instastories all day, I looked at a typical weekday and analyzed where I had "free time."  Then, I went through my planner and blocked out work vs. personal time. I added suggested activities, giving myself a gameplan for the week. For example, I should take 30 minutes or less a day to work on growing my business, but rarely do. I "found the time" by simply blocking it out to happen around 1:30 pm most days and during my daughter's dance class on Thursdays.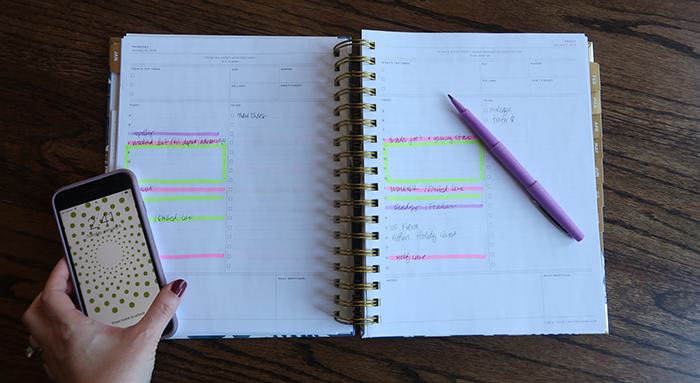 I'm hoping that as the year progresses I won't need to schedule my time in the same way, but we'll see. I've never been spontaneous and left to my own devices with free time, tend to do nothing. (Which for the record, is completely fine – if that's what I really want to do.)
I imagine this will evolve with me throughout the year, altering the blocks of time to work with my life and weeding out the things I don't care about any more. Ultimately, I'm hoping that I can recapture some of that lost cell phone scrolling time and make space for the people and activities that mean the most to me.
So, I'd love to know did you set goals for 2019. What are they? How are you planning to carry them out?