So, this was not my "first-time" to Disney. However, I had only gone just once before in the 90's. A lot has changed since then.
We knew we wanted to surprise Ellie, but that was about it folks. We were complete novices. And, quite frankly, probably still are. We left on the Friday of President's Weekend and flew back Monday afternoon. Ellie had the following Tuesday off, which gave her a day to rest before she was back to school.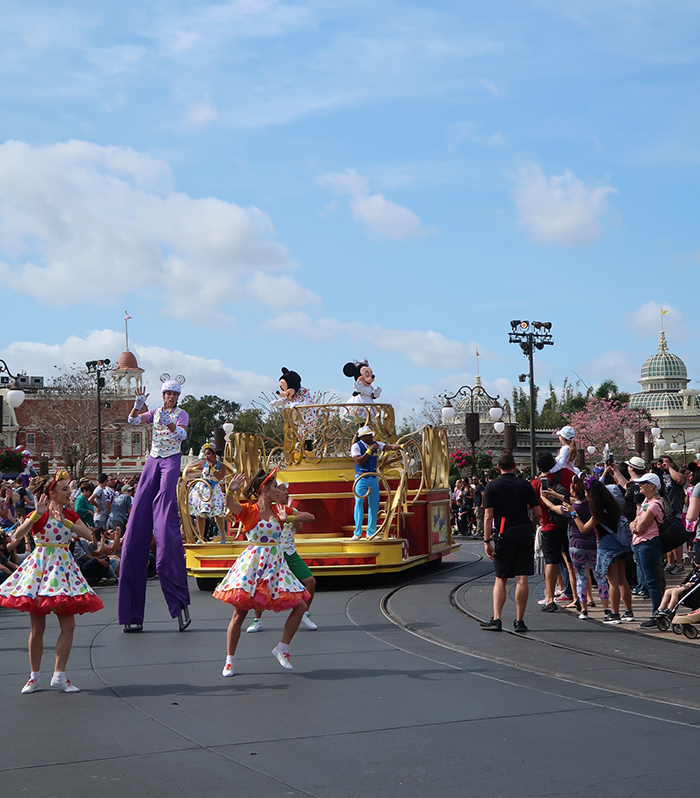 During this quick trip, we learned a lot about how Disney World in Orlando works. So, I wanted to share some of our favorite lessons learned, as well as tips that were given to us by friends who'd been before.
It's never too early to book a princess dinner, breakfast or lunch. But, really. These fill up six months in advance, which is insane. We were able to snag a breakfast at Akershus Royal Banquet Hall in Epcot. It was really wonderful, but if you're dying to do the castle, plan way ahead.
Go early. When headed to any of the parks, get up and around quickly, so you can start your day before the rides are busy. Trust me. The lines were already very long by noon, and this was a less popular weekend. I can't imagine what happens in the summer.
Even the "not so cool" rides with shorter wait times are still really fun. I promise. There were a few we walked into with zero expectations, and every time, we enjoyed ourselves.
Take a break if you can. We left Magic Kingdom around 2 PM and headed back to our resort to swim and decompress. Then, we went back later that day around 4:30 to eat and watch the fireworks.
Wear a backpack and comfortable shoes. You will walk 100 miles. These two items help with everything.
Pack more snacks than you think you need. While we did buy food at Magic Kingdom, it was so nice not to waste time waiting in line for something to eat. Instead, we just grabbed a granola bar and kept it moving.
Download the app before you go. This will be your holy grail. With it, you can view wait times, book dinner reservations and see a map of every single Disney park. It is awesome and so necessary to making your life easier.
Right before the fireworks, wait times dropped down for a few princess meetings that typically ran long. We met Ariel, Rapunzel and Tiana, at two separate places, about 30 minutes before the show. I don't know if this always happens, but is worth a try while you're there.
You don't have to camp out on Main Street to enjoy the fireworks – unless of course you want to. People start reserving their places hours before the show. No one in our family is great at sitting still in one place surrounded by a large crowd, so we wandered the park, checking out rides and meeting princesses instead. Then, right before the show, we found a place to sit on the backside of the castle near Storybook Dining at Artist Point. We were surrounded by fireworks, and it was awesome.
Fast Passes are everything. If you're staying at a Disney World resort, you can book yours 60 days before you leave here. If you're staying off property, you will be eligible to receive yours 30 days before your trip starts.
Before it's time to book your passes, make sure you have set-up your account and linked all of your trip components on the My Disney site. Your park tickets have to be on your account in order to reserve any rides. So, save yourself some stress and figure this out days before you need to. If you run into problems, the Disney staff is extremely helpful and can walk you through solutions on the phone.
When planning your vacation, be sure to book your fast passes back to back. Then, after you've used your third, immediately book a new one. Every time you use a fast pass, after the initial three, you're eligible to get one more. There were times I'd grab a new one while we were in line for our current ride.
Some rides never seem to have Fast Passes open. Splash Mountain, the Seven Dwarfs Mine Train, and Space Mountain are all very popular. If you want to do those, I'd select them months before you leave and choose time slots that are early in the morning if you can.
Enchanted Tales with Belle is an interactive character greeting. I can't recommend it enough. If you can snag a fast pass to it early on, I would. This is another Fast Pass you'll want to get months before your visit.
If you can, stay on site. Resorts offer shuttles to and from all of the Disney Parks. The experience of riding them is not always pleasant. They are typically very crowded; however, it's really nice not having to deal with parking.
Stay close to Magic Kingdom. We had a room at Art of Animation. It was nice, but further away. This made our rides not only longer, but meant our drop off and pick up location were farther from the park as well. Basically, every resort is assigned a specific, numbered pick-up and drop off spot at each park. Ours was always one of the last.
If you're headed to Epcot, be sure to check out Soarin'. If you have small people, Frozen is also a great one too. Beyond that, this park is geared more towards adults. I'd skip it if you're doing a shorter trip.
We didn't make dinner reservations ahead of time – other than our princess brunch. I wanted to keep our time flexible, so we wouldn't be tied to a specific place at a particular time. Now that we've been, I will say it would have been nice to have lunch reservations. At that point in the day, we were tired and would have loved to have a place to sit down. If you have a particular spot you'd like to eat, you should book it in advance. The day of will be too late.
So, I'd love to know – What are your favorite tips and Disney experiences?