In 2019, Keegan and I took a trip to Italy with Ellie. We flew into Rome and then joined friends at a Tuscan villa. It was as incredible and obnoxious as it sounds. A travel enthusiast, I spent a lot of time researching what we should see and eat. In this post, you'll find our 7 day itinerary for the Rome and Tuscany trip, along with restaurant and hotel details.
Flying across the ocean and navigating new cities with a 7-year-old is not for the faint of heart, but our little adventurer had a blast. Typically, Keegan and I try to cram as many experiences as we can into each day we're gone. But, we've found the key to traveling with kids is not choosing to do too many things in a day (Extra iPad time and pizza help too.). This itinerary for Rome and Tuscany with kids reflects that.
7 Day Itinerary for Rome and Tuscany with Kids
Day One – Rome, Italy
We arrived early in Rome and dropped off our suitcases. Then, we started by exploring the Piazza de Popolo, the Spanish Steps and the Trevi Fountain. We had lunch at Al Moro, which we loved.
After an unplanned nap, we headed over to see the Colosseum, spontaneously joining a tour there. That night, we ate dinner at Urbana 47 outside on the patio. It's close-ish to the Colosseum, though a bit more of a hike than we planned on after a long day of travel with a small person. I'd absolutely recommend it – despite all of us being a little punch drunk when we arrived.
Day Two – Rome to Cortona
Before hopping the train to Cortona, we took an hour or so to visit the Borghese Gardens. A truly magical place, I wished we would have had more time to explore them. It is a great spot to take kids in the city. Below is one magical snippet of what we saw there.
We spent the rest of the day taking the train to Cortona and then getting our rental car. The station we arrived at serves Camuccia and Cortona. So, after getting the rental car, we still had a bit of a drive. By the time we pulled into the cobblestone square, we were more than a little excited to join our friends.
That evening, we all ate dinner at Nessun Dorma. It was really great.
Day Three – Cortona
After a lazy start to the day, we grabbed pizza and lunch outside with the kids at a local restaurant. Then, we took a short drive to Villa Loggio for a wine tasting. I can't recommend this winery enough. The grounds are stunning, and they were very accommodating to us (and our kids). Plus, the wine tasting came with antipasti, which was incredible.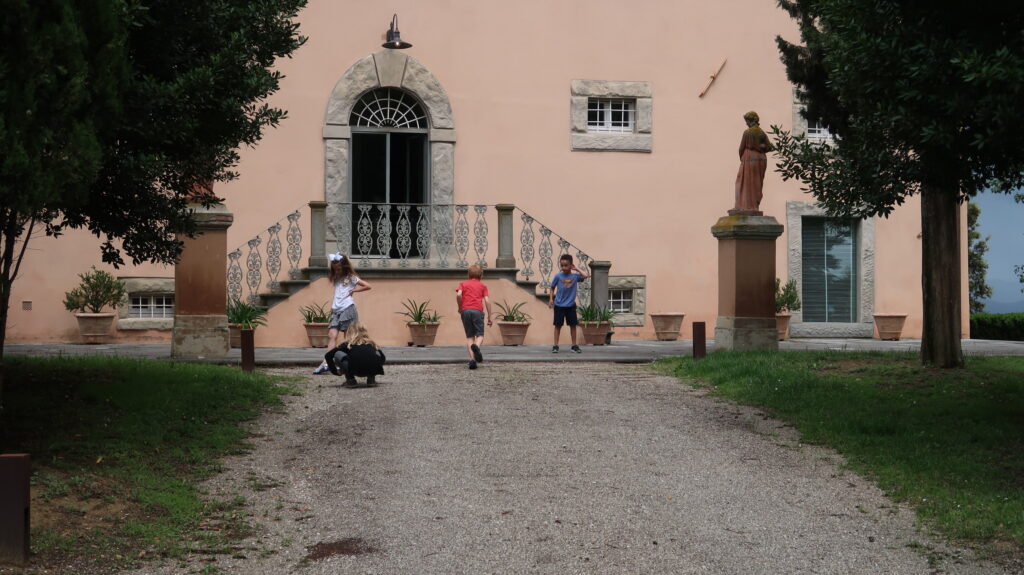 That night, we had a cooking class at the house where we learned how to make pasta, tiramisu and a few other items. It was delicious. We arranged it through our host. I believe this is the company we used. It was one of my favorite experiences on the trip, so I'd recommend looking into options wherever you're staying.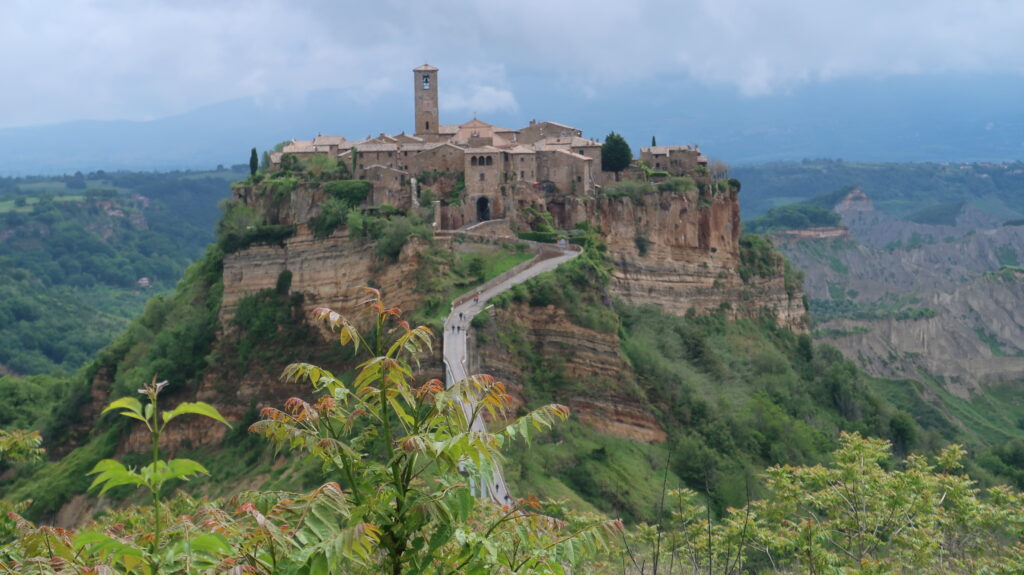 Day Four – Civita Di Bagnoregio
I had never heard of the "Dying City" before going on this trip. Civita Di Bagnoregio is unforgettable. The views and ancient buildings are breathtaking. While we all enjoyed this, I will say that there were a ton of stairs and walking, so if that is an issue for you (or your kids), this may not be the best fit. As you can imagine, the little legs got very tired (as did mine).
For dinner, we headed to Ristorante Pizzeria San Lazzaro which was very kid-friendly. It had a very relaxed vibe, which was perfect after a long day of exploring.
Day Five – Pienza and Montepulciano
On day five, we explored a few towns in Tuscany. Our first stop was Pienza, which was about an hour away. A truly picturesque place, we had one of my favorite meals of the trip here at Piccolomini Bistrot, snapping up some pottery at local shop after lunch.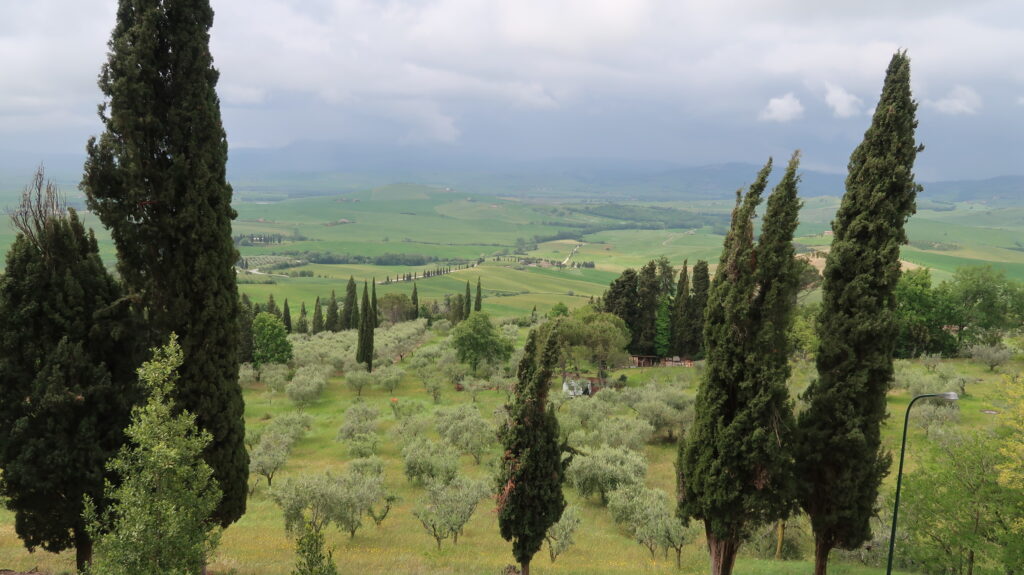 Then, we drove to Montepulciano. In the center of the city square, they have a tall tower that visitors can climb. While most of our party did this, I snuck off with a friend to a nearby tasting room, which was a very smart move. There are a host of these tucked all over the city, and I think we all felt like we were barely scratching the surface here. I certainly wish we had more time to explore this quaint town.
It's worth mentioning that Montepulciano also offers underground tours of the city. Keegan and I were dying to do, but didn't have time to. It looks incredible.
For our final night in Cortona, the same folks who taught our cooking class joined us again for an in-home dinner that was spectacular.
Day 6 – Cortona to Rome
After taking a little time to explore Cortona, we returned our rental car and boarded the train, heading back to Rome. The train station is not that close to the city center, so this took a decent chunk out of our day.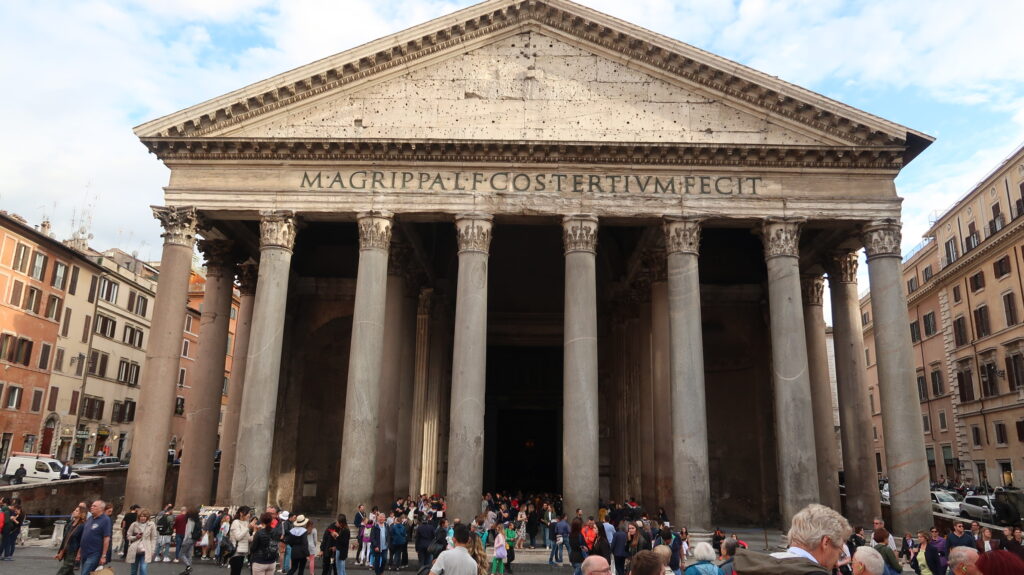 When we arrived in Rome, we checked into another hotel and visited the Pantheon, which is one of my favorite landmarks in the city.
Day Seven – Fly Home
While taking eight days to travel to Italy is a complete privilege, I will say this trip was a little too short. If I were to do it again, I would add on an extra day. Then, you could either split the Pienza and Montelpuciano side trips into two days or plan to explore Siena instead. No matter what you decide, I hope this itinerary for Rome and Tuscany with kids (or without) brings you as much joy as it did our family.
Where to Stay in Rome and Tuscany with Kids
Rome Hotels:
900 ROMA, PIAZZALE FLAMINIO, 9 – 00196 ROMA
We loved the first place we stayed in Rome. The service was incredible, and the accommodations were modern. It's location in the Piazza de Popolo was more central than I originally thought. We could reach the Spanish Steps and other area attractions very easily. If we were to go back to Rome, I would stay here in heartbeat.
Boutique Hotel Trevi, Via delle Muratte 90/92, Rome, RM, 00187 Italy
This hotel was not my favorite. The location was great, but it was honestly pretty loud at night, which was not ideal with an early flight and a kid in our room. I do think this would be a better option if you were traveling without children.
Cortona Villa:
It took some digging, but I found the villa we all stayed in. It is a truly special place. The walled in grounds have a swimming pool, orchards, and beautiful vegetable and flower gardens. Each morning, I would take a solo walk outside (sometimes Ellie would join me). It remains one of my favorite memories from the trip.
In the spirit of full disclosure, I think we had some electricity or water issues during our stay, but can't remember. Also, it sits outside of Cortona, so going to grab food at a restaurant took a bit more effort, time and coordination for our large group. If you'd rather not have to drive much, this wouldn't be the place for you. However, I'd still absolutely recommend this gem any day.
Restaurants
I've included a few of the places we ate within each days itinerary. You'll notice I'm missing lunches and dinners throughout a good portion of the descriptions. This is because we were often trying to find places to eat that could accommodate our party of 12, and two years later, I don't have notes on where we ended up.
Additionally, I hadn't realized how much slower we would move with a 7 year-old, so we missed some places because we didn't have time or were in a spot that wasn't close to the restaurant.
However, I'd hate to let all of my great research go to waste, so below, you'll find all of the places we went, as well as the ones I wished we had time to try. Those are starred.
Why I'm Posting This During a Pandemic
In 2018, Keegan and I won a trip to Tuscany at a charity auction. It was a split decision to bid on the adventure with two of our friends, and while it seemed crazy, I'm so glad we did it. Not only because we had the best time, but also because the year after we took the trip, the world shut down.
I was originally waiting to share this post before the summer of 2020, but obviously, no one was traveling internationally then. After that, it seemed silly to write it, because everything seemed so uncertain. In fact, it still feels foolish, but I wanted to put it together anyway, because I am hopeful that soon it won't.
Some of our favorite tips for traveling to Rome can be found here.