About a year ago, we took a family trip to Vancouver and Victoria, Canada. Here, I'm sharing our favorite things to do with kids from our vacation.
Stay
We stayed at Air BnB's in both Vancouver and Victoria. While both were clean and pretty, I don't think I nailed the location on our adorable apartment in Vancouver. However, our place in Victoria was so nice and close to the main attractions. Find the details here.
Do
Vancouver
Kitsilano Beach – One morning, we headed to Kits Beach and explored the area. While we didn't swim, it was fun to watch Ellie splash around in the water. Also, there was a nearby playground, which was a big hit.
Science World at Telus World Science – This was one of my favorite experiences on the trip. I can't recommend this museum enough. It is incredibly interactive – fun for kids and adults.
Victoria
Tea at the Empress – I loved this! The food was wonderful and surprisingly kid-friendly.
Chinatown – Explore this area and check out the very skinny Fan Tan Alley. You will feel like you're in Diagon Alley, but without the wands. (Yes, that was a Harry Potter reference. No, I'm not 10.)
The Butchart Gardens – Ok, so while this is beautiful, it was so crowded. And, on the days we were in town, it was incredibly hot, and we had not packed appropriately. If I were you, I'd hit this up early in the morning. We went after lunch.
Victoria Butterfly Gardens – On our way to Butchart, we stopped at the butterfly garden. It is not very big inside, but pure magic.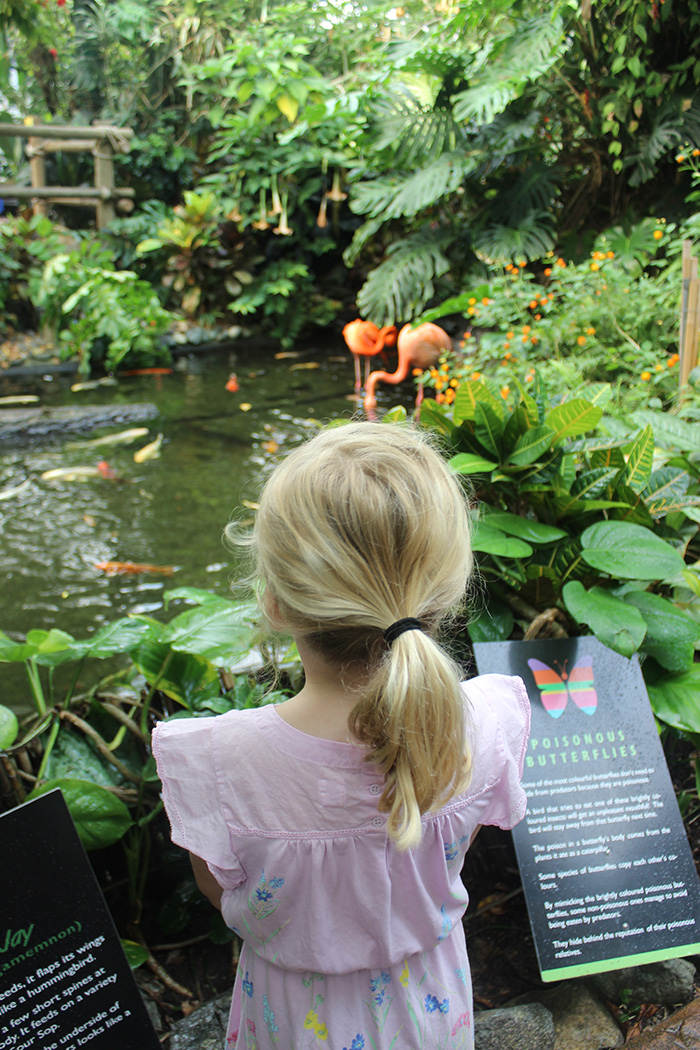 Going Between the Two
To travel between Victoria and Vancouver, you have to go by helicopter or boat. With the little one, we opted boats both ways, though I've heard the helicopters are a lot of fun too and also much faster. Here's how we got from point A to point B.
Prince of Whales Whale Watching Tour – Ok, so to get to Victoria, we did a whale watching tour. Unfortunately, we were not lucky enough to see any whales on our trip. However, I would still definitely recommend the company and experience.
V2V Cruise – On the way back to Vancouver, we took a V2V Cruise. It was so nice and comfortable. I can't recommend this way of going between the two cities enough.
Eat
Vancouver
Rodney's Oyster House – This was a casual and tasty oyster place.
Au Comptoir – We went here for breakfast, and the food and atmosphere were equally lovely.
Tojo's – This was the best sushi I've ever had. Ever. Period. End of story. From the outside, Tojo's doesn't look like much. However, the inside is quite pretty, and the food exceeds the hype. And yes, we brought Ellie. She had teryaki chicken.
Victoria
10 Acres Bistro – A bunch of the restaurants in Victoria are owned by the same group. This was one of them, and the salmon there was quite good.
Il Terrazzo – Italian food, obviously.