Part guacamole, part deviled egg, this appetizer is addictive. Make them knowing they will be eaten in minutes.
Simple to create, the hardest part is peeling the hard boiled eggs. But, I promise it will be worth the effort. They will be a huge hit at your next tailgate or watch party. Plus, you can eat the leftover filling, and no one will ever know.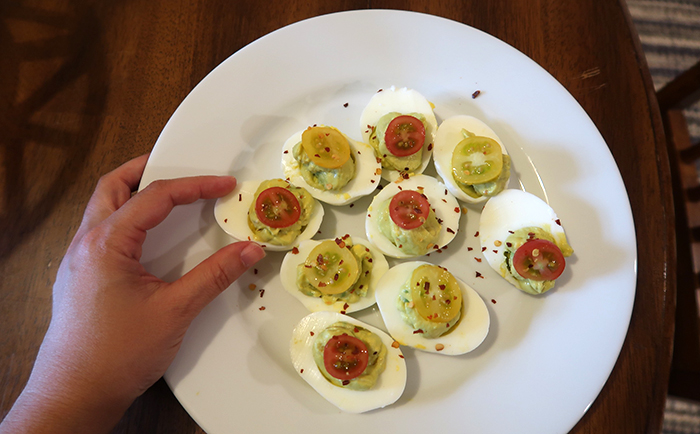 Guacamole Deviled Eggs
Makes 12 to 16 eggs
Ingredients:
2 tbsp. mayo
1 avocado
1 tsp. Dijon mustard
Half of one lemon
Dash of hot sauce
Salt and pepper
Red pepper flakes
4 sliced cherry tomatoes (optional)
Directions:
Half each of the hard boiled eggs. Scoop out the yolks and place them in a medium sized bowl. Add the mayo, avocado, Dijon, lemon juice, hot sauce, salt and pepper. Mash together with a fork until smooth. Taste and adjust the seasonings to your liking.
Once smooth, spoon it into a plastic bag, pushing it to the bottom of one corner. Snip the end. Squeeze the filling into each egg. If this seems like too much trouble, you can always try spooning it, but this was easier for me.
Sprinkle the tops of each one with crushed red pepper flakes and then, place a single slice of cherry tomato on every egg.