At the Odle house, we eat pork chops once a week. I've had my tried and true method for over year, but recently switched it up. As soon as Ellie had this new version, she announced she liked these much better. I liked them too, but for different reasons. They taste great, but their true advantages are they are fast, inexpensive and require zero chopping.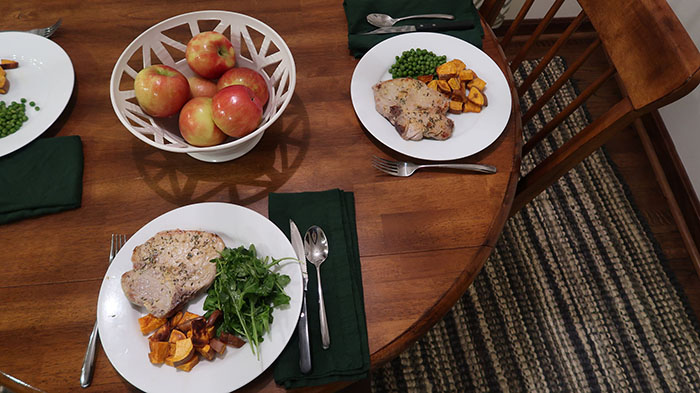 They couldn't be simpler. To make mustard and thyme pork chops, mustard is brushed on, and seasonings are added. Then, they go into a hot skillet for under 15 minutes. We like to serve ours with roasted vegetables, a green salad or fresh fruit.
Mustard & Thyme Pork Chops
Ingredients:
2 – 4 bone-in pork chops
1-2 tbsp. Dijon mustard
1 tsp. or so of dried thyme
Salt
Pepper
1 tbsp. extra virgin olive oil
Directions:
Squeeze 1-2 tbsp of Dijon mustard into a small bowl. Brush it on one side of each pork chop. Sprinkle the mustard side with thyme, salt and pepper. No need to measure here.
In a non-stick pan, heat 1 tbsp. extra virgin olive oil over medium high heat. Add the pork chops to the hot pan, mustard side down.
Now, brush the remaining side with mustard and sprinkle each chop with thyme, salt and pepper too.
When the pork has browned, flip it. This should take 3 to 5 minutes.
Then, let it cook for about a minute or until it's browned on the opposite side. Lower the heat and cover for about 3 minutes or until cooked, but still juicy. This will take longer if you have thick pork chops.
Serve immediately.
Find more 15 minute meal ideas here.